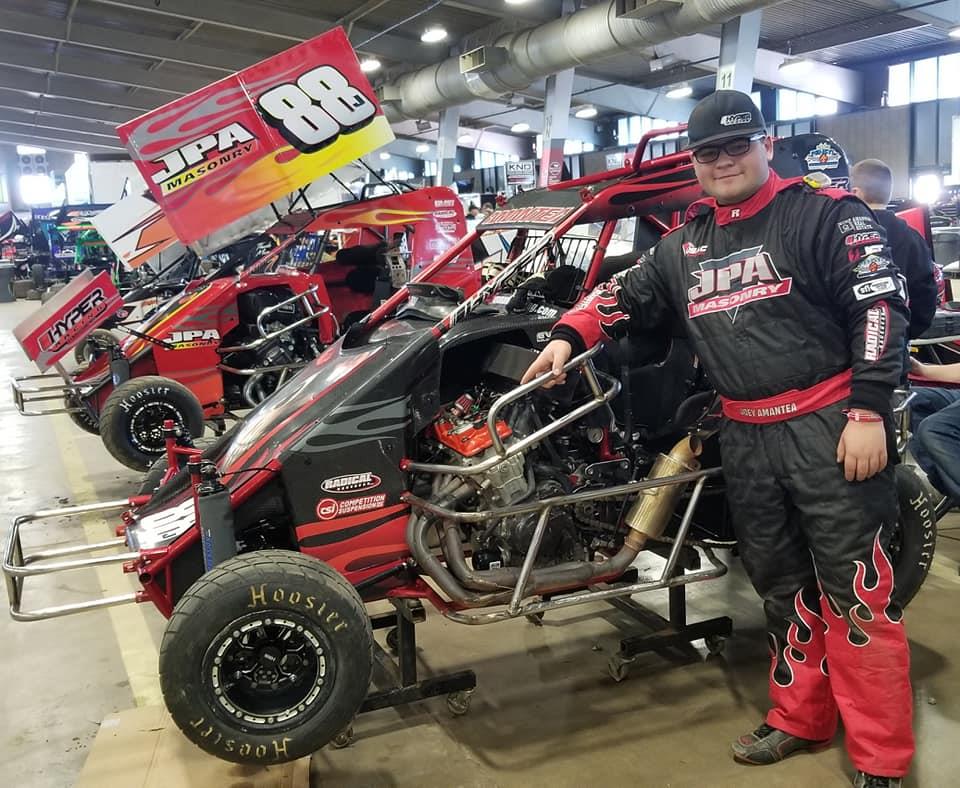 1/7/2020
Inside Line Promotions
---
Amantea Reaches New Heights During Third Trip to Tulsa Shootout
Inside Line Promotions – TULSA, Okla. (Jan. 7, 2020) – Joey Amantea took another step forward in his progression at the biggest micro sprint event in the country.
Amantea made his third career visit to the Lucas Oil Tulsa Shootout last week during the 35th edition of the spectacle held inside the River Spirit Expo Center. He ended with career-best event finishes in all four divisions he tackled, making the B Main in three of the four classes.
"This year was really good," he said. "Overall it was a really good week. I thought we had a shot to make the show, but the luck and the track wasn't on our side. Tulsa takes luck, skill and the track."
A record of more than 1,300 entries, including more than 300 in multiple classes, took part in the event with Amantea right in the mix despite his team battling fuel pressure and gear problems early.
He ended the week with career-best finishes of third – one spot shy of a transfer – in the C Main during Non-Wing Outlaw competition and fifth in a B Main in Winged Outlaw action.
"Our Pennsylvania legal motor was down on horsepower," he said. "It's crazy how much power they had compared to us. When we'd start it was like they had a straightaway lead right away."
Amantea also enjoyed great performances during his debut in 'a' class, placing ninth in a B Main in Stock Non-Wing and 10th in a B Main in Winged 'A' Class.
"The track was tough all weekend, but we kept moving forward," he said. "I thought I did good as a driver. Getting acquainted with the 'a' class stuff isn't as difficult as you think. Once you get the motor stuff figured out, the power is almost as much as our outlaw motor, which is our PA legal motor. I thought our team did a good job. Also, Hyper Racing helped us out a lot so we're grateful for Mike Dicely.
"We ended without a single dent on the car. We didn't have to change anything. It was a really fun week."
Amantea is working on putting a schedule together for the 2020 season, which he expects to finalize within the next month or two.
UP NEXT –
TBD
MEDIA LINKS –
Website: http://www.joeyamantearacing.com/
Facebook: https://www.facebook.com/joeyamantearacing/
Twitter: https://twitter.com/joeyamantea88J
SPONSOR SPOTLIGHT – Amantea Real Estate
Amantea Real Estate is a residential and commercial real estate company based in Mount Pocono, Pa. For more information, visit http://www.AmanteaRealEstate.com.
"I'm very happy to have an esteemed company like Amantea Real Estate back our team," Amantea said. "I'm very grateful for their support and look forward to continued success together."
Amantea would also like to thank JPA Masonry, Hyper Racing, Jet Signs, Radical Race Gear, Pensyl Enterprises and Gilroy Northeast Inc. Excavating and Construction for their continued support.
INSIDE LINE PROMOTIONS –
Inside Line Promotions specializes in affordable public relations and media management for motor sports drivers, teams, sponsors, tracks, series, events, organizations and manufacturers. ILP Founder Shawn Miller leverages professional journalism with new media technologies and social networking to improve your exposure and the return on investment for your sponsors.
To meet the media relations needs of your program by joining Team ILP, contact Shawn at 541-510-3663 or Shawn@InsideLinePromotions.com. For more information on Inside Line Promotions, visit http://www.InsideLinePromotions.com.
---
Article Credit: Inside Line Promotions
Submitted By: Shawn Miller
Back to News