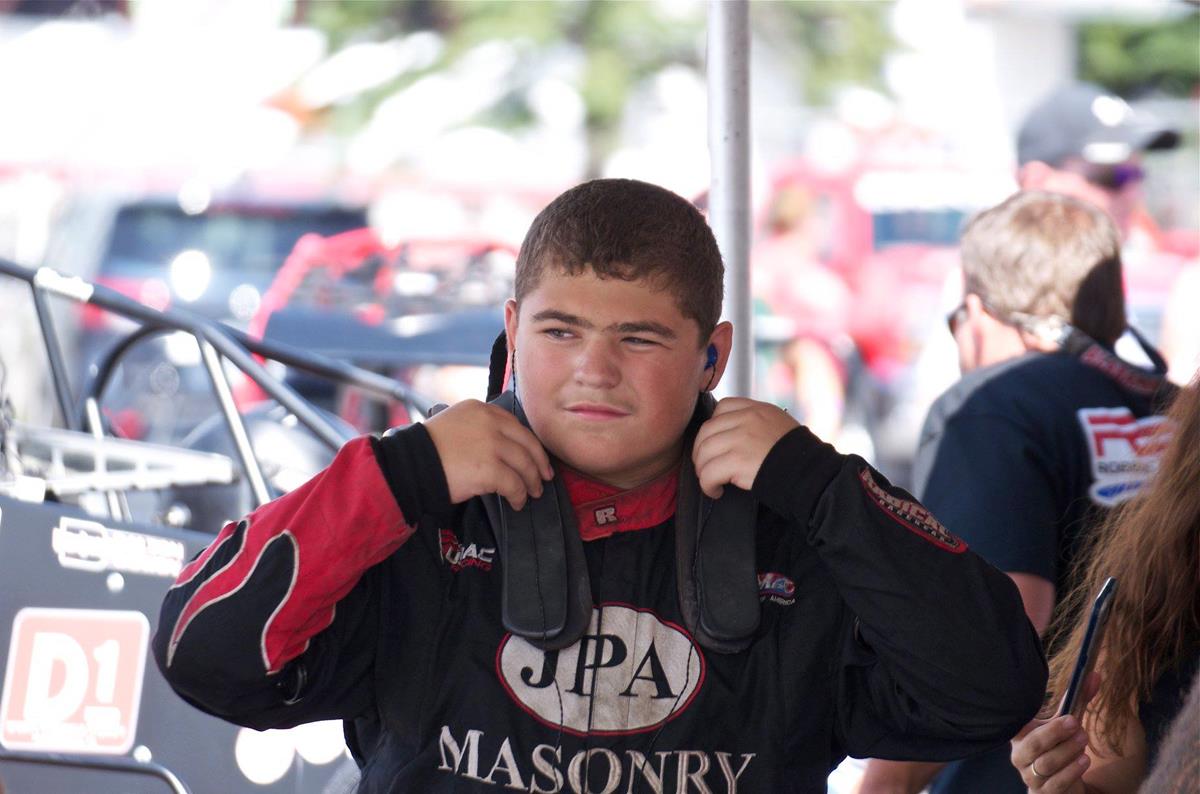 12/30/2019
Inside Line Promotions
---
Amantea Venturing to Oklahoma to Compete in Four Classes at Tulsa Shootout
Inside Line Promotions – MT. POCONO, Pa. (Dec. 30, 2019) – Joey Amantea is tackling four divisions this week when he heads to the middle of the United States for the 35th annual Lucas Oil Tulsa Shootout.
Amantea returns to winged outlaw and non-wing outlaw competition while making his debut in winged 'a' class and stock non-wing action at the event. The team will have two cars – one for outlaw racing and one for 'a' class. The event runs Wednesday through Saturday inside the River Spirit Expo Center in Tulsa, Okla.
"I think it's a pretty neat event," he said. "Last year we locked into a qualifier right off the bat. That was great for my confidence, especially being my second year there. We went out and beat a bunch of top drivers to get into the qualifier. Then we didn't have much luck getting junked by another driver on Lap 1. That wasn't good."
Last year Amantea improved his performance from his inaugural visit in 2018 and he hopes to make similar progress in the 2020 edition.
"It's different," he said. "You never get more than 200 cars in the classes except the Tulsa Shootout. We'll be doing a lot more big races this year so were going to try to acquaint ourselves better with the 'a' class engines.
"My goal is to make the show. I believe in all of our cars we have a good shot. The first goal is to get through the heats and get into the qualifiers. The second goal is to make the show in at least one out of the four classes."
Amantea is the most confident he's been entering the Tulsa Shootout thanks to a strong finish to the 2019 season.
"Coming off the National Open with our new setup that we've discovered works on big and small tracks is a boost of confidence," he said. "Tulsa is kind of intermediate. Hopefully it will still work, but we'll find out in practice. Tulsa is notoriously slick and our setup is good on ice skating rinks. Hopefully it treats us right."
UP NEXT –
Wednesday through Saturday inside the River Spirit Expo Center in Tulsa, Okla., for the 35th annual Lucas Oil Tulsa Shootout
MEDIA LINKS –
Website: http://www.joeyamantearacing.com/
Facebook: https://www.facebook.com/joeyamantearacing/
Twitter: https://twitter.com/joeyamantea88J
SPONSOR SPOTLIGHT – JPA Masonry
JPA Masonry, which is located in Mt. Pocono, Pa., is a trusted and experienced masonry leader in the Poconos. Although established in 2001, contractor and owner, Joseph P. Amantea (JPA), has almost 20 years of experience in the masonry field, including custom stone and design. For more information, visit http://www.JPAMasonry.com.
"JPA Masonry drives our race team," Amantea said. "Without their support I wouldn't be able to race. I'm very appreciative of all they do for me."
Amantea would also like to thank Amantea Real Estate, Hyper Racing, Jet Signs, Radical Race Gear, Pensyl Enterprises and Gilroy Northeast Inc. Excavating and Construction for their continued support.
INSIDE LINE PROMOTIONS –
Inside Line Promotions specializes in affordable public relations and media management for motor sports drivers, teams, sponsors, tracks, series, events, organizations and manufacturers. ILP Founder Shawn Miller leverages professional journalism with new media technologies and social networking to improve your exposure and the return on investment for your sponsors.
To meet the media relations needs of your program by joining Team ILP, contact Shawn at 541-510-3663 or Shawn@InsideLinePromotions.com. For more information on Inside Line Promotions, visit http://www.InsideLinePromotions.com.
---
Article Credit: Inside Line Promotions
Submitted By: Shawn Miller
Back to News