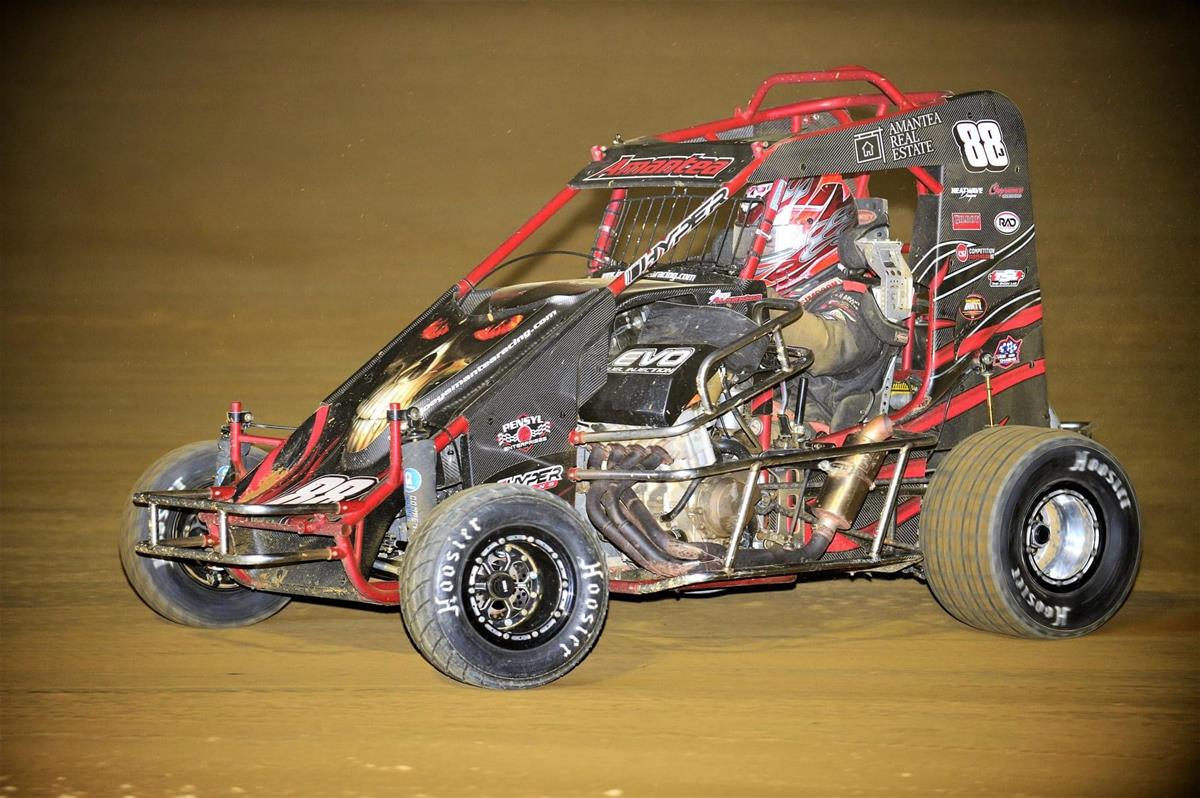 1/7/2021
Inside Line Promotions
---
Amantea Welcomes New Sponsor While Battling Bad Luck at Tulsa Shootout
(Photo by Bush Photo)
Inside Line Promotions – TULSA, Okla. (Jan. 7, 2021) – Joey Amantea competed in four different classes during the 36th annual Lucas Oil Tulsa Shootout last week, when he highlighted the micro sprint event by qualifying for a pair of B Mains and picking up a new marketing partner.
While short of his ultimate goal of advancing into an A Main and contending for a famed Golden Driller trophy, Amantea was happy to be battling against some of the best micro sprint drivers in the country and to be able to present himself on a national stage inside the River Spirit Expo Center.
"It was a disappointing weekend coming off of last year's momentum," he said. "It just seemed like we were in the hole from the get-go. We had mechanical issues and it snowballed from there."
In winged outlaw competition, Amantea opened the action with a runner-up result in a heat race before a wreck dropped him to a 14th-place finish in a qualifier. This buried him deep in the field of a B Main on Saturday. Amantea advanced five positions to finish sixth, which was four spots short of transferring.
"We got upside down in the winged outlaw race and the car just wasn't right after that," he said. "We still managed to run the B Main, but we just struggled big time."
Amantea was also competitive in the stock non-wing class. He advanced two positions in a heat race to finish fourth, which placed him 14th on the grid in a qualifier. Amantea moved up to eighth to put himself in the fifth starting position in a B Main, but he struggled to gain any momentum after multiple on-track incidents and he finished 11th.
"We got spun out right away and had to come from the rear in the B Main so that was a challenge," he said. "We were able to make our way back to the front, but we ended up wrecking out again, which sums up our Shootout."
In non-wing outlaw competition, Amantea finished fifth in both his heat race and a C Main. In the winged 'a' class division he placed sixth in a heat race and fourth in the C Main. This came after sustaining mechanical woes from the beginning of the week.
"It stinks as we had a brand new motor and we suffered electrical issues from the very start, which put us in a hole right away," Amantea said. "We got things fixed up, but honestly the car just wasn't the same after that and I'll just chalk it up to bad luck."
While the weekend wasn't great results-wise, Amantea was able to pick up a new sponsor that will help in his 2021 endeavors. Stinger Race Fuel Products will be coming on board as a primary sponsor for 2021 as Amantea prepares for a rookie campaign with the Rapid Tire USAC East Coast Wingless Sprint Car Series.
"While we didn't run as well as we'd hoped, we were able to obtain a new sponsor for 2021 and that's going to be huge as we transition to sprint cars full-time," Amantea said. "It just goes to show that good things can come from hard work and I'm grateful for Stinger Race Fuels joining our team."
MEDIA LINKS –
Website: http://www.joeyamantearacing.com/
Facebook: https://www.facebook.com/joeyamantearacing/
Twitter: https://twitter.com/joeyamantea88J
SPONSOR SPOTLIGHT – Stinger Race Fuel Products
Stinger Race Fuel Products is exclusive to Insinger Performance and offers a broad range of performance fuels that include Leaded, Unleaded, Ethanol-focused, Methanol/Racing Alcohol and Non-Ethanol choices to meet the needs of those within the racing community. To contact a Stinger Race Fuel Products technical expert, call (302) 273-3982 or visit https://insingerperformanceinc.com/stinger-race-fuel/.
"To achieve your dreams and goals in this sport you need great partners who provide quality products and I believe Stinger Race Fuel is the best out there," Amantea said. "I'm very grateful for their support and look forward to continued success together."
Amantea would also like to thank JPA Masonry, Amantea Real Estate, Hyper Racing, Jet Signs, Radical Race Gear, Pensyl Enterprises and Gilroy Northeast Inc. Excavating and Construction for their continued support.
INSIDE LINE PROMOTIONS –
Inside Line Promotions specializes in affordable public relations and media management for motor sports drivers, teams, sponsors, tracks, series, events, organizations, and manufacturers. ILP Founder Shawn Miller leverages professional journalism with new media technologies and social networking to improve your exposure and the return on investment for your sponsors.
To meet the media relations needs of your program by joining Team ILP, contact Shawn at 541-510 3663 or Shawn@InsideLinePromotions.com. For more information on Inside Line Promotions, visit http://www.InsideLinePromotions.com.
---
Article Credit: Inside Line Promotions
Submitted By: Shawn Miller
Back to News