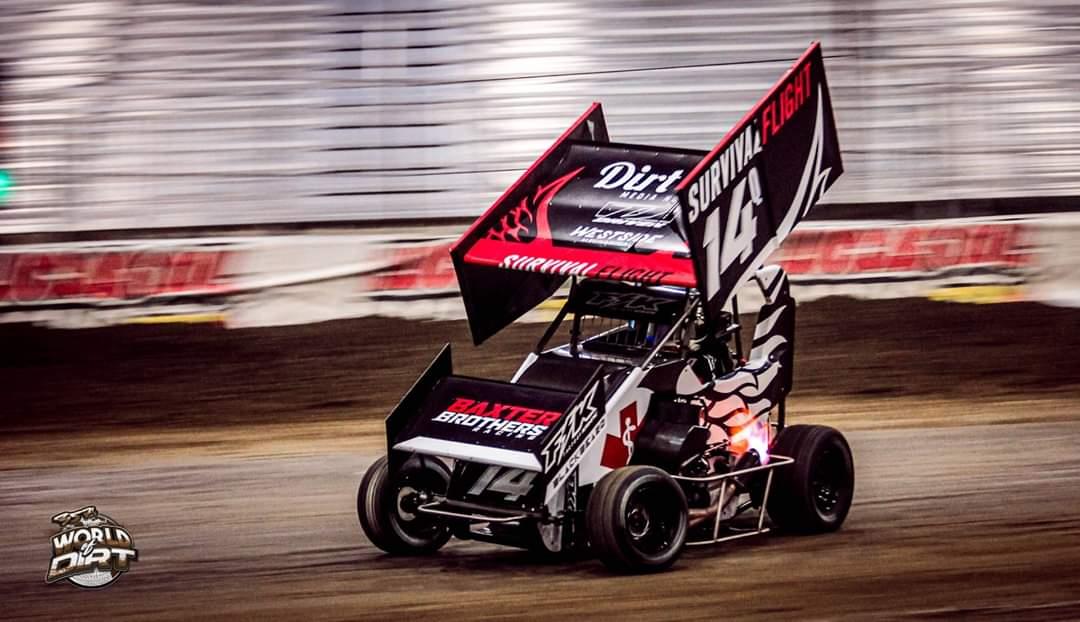 1/9/2020
Inside Line Promotions
---
Baxter Displays Speed Throughout Tulsa Shootout Debut
(Photo by World of Dirt)
Inside Line Promotions – TULSA, Okla. (Jan. 9, 2020) – Blaine Baxter enjoyed a fast micro sprint in each race he competed in during his first time tackling the 35th annual Lucas Oil Tulsa Shootout, which was held last week inside the River Spirit Expo Center.
While being hindered by a poor draw in both Winged 'A' Class and Winged Outlaw heat races, Baxter charged forward and passed multiple cars in each of his races during the four-day event.
"I was pretty happy with how I did, especially since it was our first time there and with all the tough competition," he said. "I drove my hardest every time I was on the track and was able to pass cars. I left there feeling more confident."
Baxter's first laps in competition at the bullring came after taking the green flag from the ninth starting spot in a Winged 'A' Class heat race.
"I was pretty comfortable with the track following hot laps, but I knew that starting in the back meant that I had to get up on the wheel right away and pass some cars," said Baxter, who charged forward to finish fifth.
Baxter moved toward the front again in his B Main, advancing from 11th to fifth.
"I got up on the top and got some momentum going and was able to move forward," he said. "Unfortunately, we just ran out of laps and weren't able make it to a transfer spot."
Baxter also started in the last row of his Winged Outlaw heat race. He once again worked his way through the field and finished fifth after taking the green flag from the last (10th) starting position.
"It took me a little while to adjust to the power of the Outlaw car after running the 'A' Class car," he said. "But once I got used to it I was able to move forward."
Baxter lined up third in his Winged Outlaw C Main.
"The two guys in front of me got together at the start and I was able to get under them and take the lead and held it to the checkered," he said. "Unfortunately, our car was two pounds too light when they weighed it after the race and we were disqualified. We still don't know how that happened. The night before the car was 22 pounds heavy so we took off 12 pounds. It was disappointing, but I still feel that we won the race and I'm proud of that."
Baxter will take a couple of months off from racing before returning to the track in March to kick off the 2020 season.
"I'm hoping to run full-time at Dixon and Delta this year," he said. "I'd really like to win a championship at either of those tracks."
QUICK RESULTS –
Jan. 1-4 – River Spirit Expo Center in Tulsa, Okla. (Winged 'A' Class) – Heat race: 5 (9); B Main: 5 (11).
Jan. 1-4 – River Spirit Expo Center in Tulsa, Okla. (Winged Outlaw) – Heat race: 5 (10); C Main: DQ (3).
MEDIA LINKS –
Website: http://blainebaxterracing.com/
Twitter: https://twitter.com/blainebaxter25
Facebook: https://www.facebook.com/BlaineBaxterRacing/
SPONSOR SPOTLIGHT – Dustin and Tamara Baxter
"I just want thank my parents for all they've done for my racing," Baxter said. "They're the main reason I can race. They both work hard to allow me to race. My dad also works a lot on my cars and my mom always gives me great support. I'm really lucky to have them for parents."
Blaine Baxter Racing would also like to thank Westside Mechanical, Dirt Co Media House, Les Schwab Tire Center, FK Shocks, Shell Shock, Dustin Davis Demolition, ButlerBuilt Professional Seat Systems, Blackbeard, Arai Helmets, D1 Chassis, Wraps N Motion, Keizer Aluminum Wheels, Energycoil, Adams Performance and Adidas Motorsport Apparel for their continued support.
INSIDE LINE PROMOTIONS –
Inside Line Promotions specializes in affordable public relations and media management for motor sports drivers, teams, sponsors, tracks, series, events, organizations and manufacturers. ILP Founder Shawn Miller leverages professional journalism with new media technologies and social networking to improve your exposure and the return on investment for your sponsors.
To meet the media relations needs of your program by joining Team ILP, contact Shawn at 541-510-3663 or Shawn@InsideLinePromotions.com. For more information on Inside Line Promotions, visit http://www.InsideLinePromotions.com.
---
Article Credit: Inside Line Promotions
Submitted By: Shawn Miller
Back to News