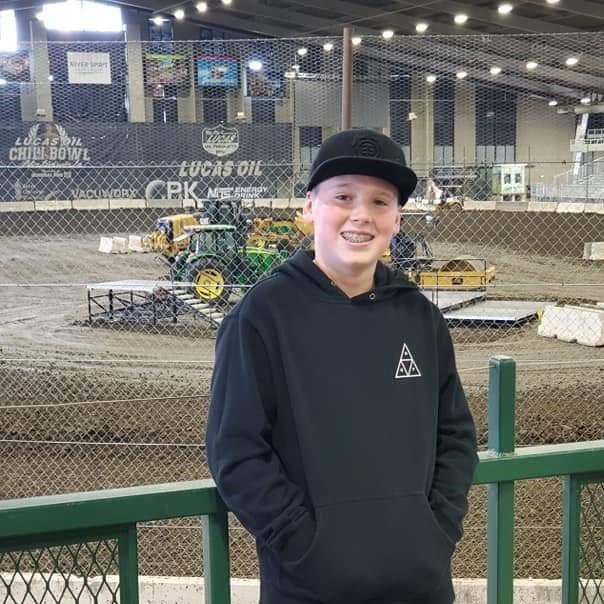 12/31/2019
Inside Line Promotions
---
Baxter Looks Forward to Tackling Tulsa Shootout for First Time
Inside Line Promotions – TULSA, Okla. (Dec. 31, 2019) – Blaine Baxter is excited to be competing in his first Lucas Oil Tulsa Shootout this week.
The 11-year-old plans to race in the winged outlaw, winged 'a' class and stock non-wing divisions during the four-day event running Wednesday through Saturday inside the River Spirit Expo Center.
"This is definitely the biggest race of my career," said Baxter, who has been racing since he was 4-years-old. "I've always wanted to race here and we felt the time was right to do it this year.
"We had thought about racing the Shootout last year, but when the time came we decided we weren't quite ready for it then. So I got another year of racing under my belt and I feel we made a lot of progress in the last year. That makes me feel better about racing it this year."
Baxter and his family made the long haul from California and arrived in Tulsa, Okla., last weekend. Baxter was able to check out the track for the first time prior to this week's festivities.
"It looks really awesome," he said. "I have iRacing at home and it looks just like it does on there."
Baxter hopes his time spent racing on the computer will give him some familiarity with the track.
"This is the first time that I've raced a track on iRacing before racing on it in person," he said. "I'm anxious to see how similar it is. I'm hoping that it will at least give me a feel for the track."
Baxter is also hopeful for a week of competitive racing free of mechanical woes.
"My main goal for this week is to make the A Main," he said. "I think that would be a big accomplishment for us our first time here and with so many entries."
UP NEXT –
Wednesday through Saturday inside the River Spirit Expo Center in Tulsa, Okla., for the 35th annual Lucas Oil Tulsa Shootout
MEDIA LINKS –
Website: http://blainebaxterracing.com/
Twitter: https://twitter.com/blainebaxter25
Facebook: https://www.facebook.com/BlaineBaxterRacing/
SPONSOR SPOTLIGHT – D1 Chassis
D1 Chassis of Fresno, Calif., has become one of the nation's leading micro sprint chassis. In just a few short years, D1 Chassis has scored hundreds of feature wins along with multiple championships nationally and internationally. For more information, visit http://www.d1driven.com.
"D1 has been a huge help," Baxter said. "Jake Hagopian at D1 is an awesome guy who's done a lot for us. He's great at getting us our parts when we need them and for help with setting up our cars."
Blaine Baxter Racing would also like to thank Westside Mechanical, Dirt Co Media House, Les Schwab Tire Center, FK Shocks, Shell Shock, Dustin Davis Demolition, ButlerBuilt Professional Seat Systems, Blackbeard, Arai Helmets, D1 Chassis, Wraps N Motion, Keizer Aluminum Wheels, Energycoil, Adams Performance and Adidas Motorsport Apparel for their continued support.
INSIDE LINE PROMOTIONS –
Inside Line Promotions specializes in affordable public relations and media management for motor sports drivers, teams, sponsors, tracks, series, events, organizations and manufacturers. ILP Founder Shawn Miller leverages professional journalism with new media technologies and social networking to improve your exposure and the return on investment for your sponsors.
To meet the media relations needs of your program by joining Team ILP, contact Shawn at 541-510-3663 or Shawn@InsideLinePromotions.com. For more information on Inside Line Promotions, visit http://www.InsideLinePromotions.com.
---
Article Credit: Inside Line Promotions
Submitted By: Shawn Miller
Back to News