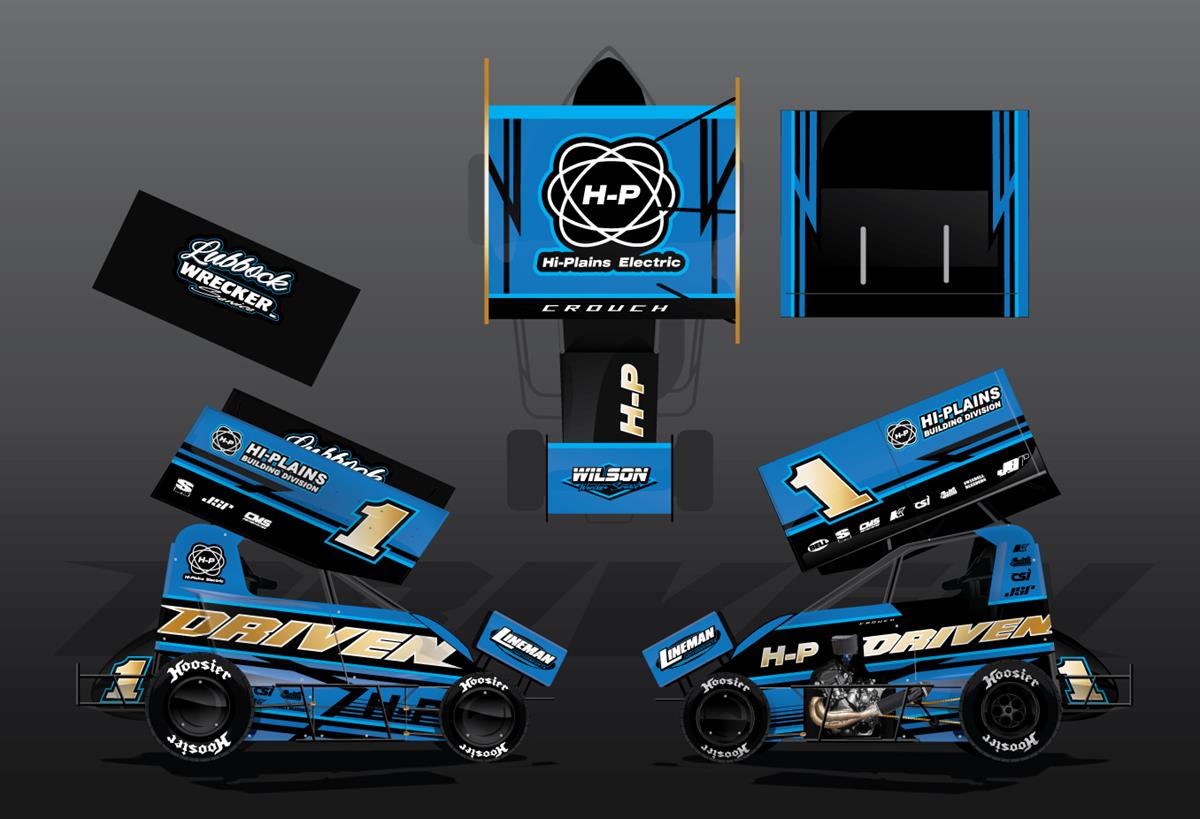 12/2/2019
Inside Line Promotions
---
Six Drivers Selected for Hi-Plains Building Division Team at Famed Tulsa Shootout
Inside Line Promotions – LUBBOCK, Texas (Dec. 2, 2019) – The Hi-Plains Building Division team owned by Leighton Crouch has a half dozen drivers lined up to compete during the 35th annual Lucas Oil Tulsa Shootout next month.
Brenham Crouch and Jake Hagopian will be doing double duty by competing in multiple classes during the marquee event held Jan. 1-4 inside the River Spirit Expo Center in Tulsa, Okla. Joey Starnes, John Binz, Hayden Baughman and Carson Reutzel will each tackle one division.
"I'd like every car to make the A Main," Leighton Crouch said. "Everybody really has a shot. I'd like for Jake to go back to back, but obviously with so many cars the competition is going to be fierce. It's a prestige thing. If you win a driller it propels you to want to win more and do bigger things. It brings out the fight in everybody to try to get to that point."
Hagopian led the team to its first driller during the 2019 edition of the marquee event when he claimed the Winged 'A' Class title.
"We ended the race second, but the driver in first was disqualified," Crouch said. "We were declared the winner, but we want to win it outright this time."
Hagopian will defend his title in the Winged 'A' Class and he will also compete in the Winged Outlaw division.
Brenham Crouch is set to race in the Winged 'A' Class and Restricted 'A' Class divisions. The Tulsa Shootout will kick off a busy year for him and team manager Joey Starnes as both drivers will race full time with the Lucas Oil National Open Wheel 600 Series presented by Hi-Plains Building Division.
"Brenham earned multiple national and regional wins last season so we're excited for what 2020 entails," Leighton Crouch said. "And Joey is a huge part of our team. He manages our racing program and has been a successful driver, picking up several victories in 2019. John Binz will run a limited schedule next year so we're excited to have him running the Tulsa Shootout, too. John does a great job as our crew chief year-round so he's also a big part of the team."
Starnes and Binz will both invade the Winged 'A' Class division.
Baughman will be in the Restricted 'A' Class category and Reutzel in the Junior Sprint class.
"We're glad to have Hayden, who is Josh Baughman's son, along with Aaron Reutzel's son, Carson, a part of our team as well," Crouch said. "The expectation for the team is to do well, but also to have a fun week at one of the biggest events in short-track racing."
UP NEXT –
Jan. 1-4 at the River Spirit Expo Center in Tulsa, Okla., for the 35th annual Lucas Oil Tulsa Shootout
MEDIA LINKS –
Website: https://www.hpbuildingdivision.com/
Facebook: https://www.facebook.com/HiPlainsBuildingDivision/
SPONSOR SPOTLIGHT – Driven and Driven Midwest
Driven Performance has been serving the racing community for more than 25 years. What started as a small parts and service shop in the late 1980s has turned into a full-scale performance speed shop. For more information, visit http://www.D1Driven.com.
Driven Midwest is a speed shop and D1 chassis dealer located in Tulsa, Okla. The company has one goal: to raise the standard of customer service to an exceptional level while building a relationship with every customer. For more information, visit https://www.facebook.com/DrivenPerformanceMidwest/.
"This will be our second year working with Driven and Driven Midwest," Crouch said. "They've always had great customer service and excellent products. We've built a great relationship with everyone at Driven and Driven Midwest and look forward to mutual success together."
Crouch would also like to thank Hi-Plains Building Division, Hi-Plains Electric, Lubbock Wrecker Service, Wilson Wrecker Service, Mychron-Tom, CMS Promotions, Keizer Aluminum Wheels, CSI Shocks, Driven, Driven Midwest, Swindell Bleeders, Lineman Motorsports, Outlaw Wings, Smith Titanium, Bell Helmets, Simpson Race Products and JSR for their continued support.
INSIDE LINE PROMOTIONS –
Inside Line Promotions specializes in affordable public relations and media management for motor sports drivers, teams, sponsors, tracks, series, events, organizations and manufacturers. ILP Founder Shawn Miller leverages professional journalism with new media technologies and social networking to improve your exposure and the return on investment for your sponsors.
To meet the media relations needs of your program by joining Team ILP, contact Shawn at 541-510-3663 or Shawn@InsideLinePromotions.com. For more information on Inside Line Promotions, visit http://www.InsideLinePromotions.com.
---
Article Credit: Inside Line Promotions
Submitted By: Shawn Miller
Back to News